Photography on Woodbury Common,
East Devon, England.


Click on the image below for a larger version which (if you can see those layer-type pictures they publish these days (or you have a fancy new-fangled 3D monitor) can be viewed in 3D.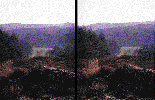 Local photographic clubs:
The Exmouth Photo Group.

Click here to search for other Devon camera clubs.
---
This web site is not responsible for the content of external sites.
This page last updated 16th. August 2020.
Text © Copyright Jim Batten, 1996-2020.


Send comments, enquiries, etc. to Jim Batten