The Royal Marines
and Woodbury Common.
In the past.
See this link for detailed information provided by the CTCRM.

The Royal Marines were founded October 28, 1664.

During the second World war some 5,000 Marines were based on the Common, around the Dalditch area. Siting them here made them less vulnerable to air attack.

One area of the Common was actually intended as a bombing target. A mock-up of Exeter Airport was created - with landing lights, etc. - with the intention of fooling German pilots into bombing it instead of Exeter Airport.

There were hundreds of buildings on the Common, although they were considerably spread out. They included a cinema and theatre. Most were built of brick, with concrete roofs.

Most of the buildings have been demolished, but you will still find numerous remains of them. Many woodland glades are suspiciously flat and thus show their origins as parade grounds.
The Royal Marines historical society are working on a reconstruction of the Common during the second World war. Click on the image on the right to see a map showing the area at that time (around 120Kb). This map is copyright Captain Steve Othen and was based on his ground surveys of the Dalditch area.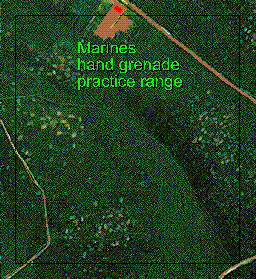 This aerial view of the vicinity of the hand grenade practice range shows numerous long-lasting scars. All the nearby hillsides have had foxholes dug over the years and the marks of these are still quite evident from the air. However, from the ground, these marks are scarcely visible - each training exercise being followed by an inspection to check that holes have been properly filled in. This does show how useful aerial photographs are in the discovery of old workings.
In fact the Marines treat the Common with a great degree of care. New recruits are even given a talk by local representatives of the nature conservation societies.
Today.
The Commando Training Centre (CTC) at nearby Lympstone is the sole training centre for the Royal Marines - for both officers and men.

The 30-week-minimum training course for new recruits includes a number of exercises on the Common. This includes various combat exercises and their famous cross-country course which involves a passage through a flooded pipe (see Blue Peter annual for 1982, no. 19, ISBN 0 563 20079 0, pages 50 to 53).

Anyone who is looking for a peaceful spot to park, after dark, may wish to consider avoiding the areas used by the Marines for their night exercises.

See Clinton Devon Estate's web site for further information.
Relevant links.
Royal Navy pages about the Marines.

Royal Marines Museum , Southsea, Hampshire.

Pictures of the Marines on the Common, on Flickr.

Byelaws relating to MOD use of the Common.

"The Royal Marine Commandos in the Falklands War", by Andy Lane, from Halsgrove Publishing.

British and US Military Ranks Compared by Wikipedia.

Biography of Ken Applegate - a commando in Suez.

The Historical Maritime Society which re-enacts Royal Navy events.
---
This web site is not responsible for the content of external sites.
This page last updated 23rd. September 2014.
Text © Copyright Jim Batten, 1996-2014.
Aerial photograph © Copyright Devon County Council, 1996 - See Maps page for details.
Map of Dalditch during WW2 copyright Captain Steve Othen. Send comments, enquiries, etc. to Jim Batten